As I complete projects, I'll walk you through the process and provide the trials and tribulations that I encounter with various things.
I'm on a pretty tight budget although I have some funds to work with.  I'm recently divorced, we sold the house and the leftover proceeds from that sale are available to me to rebuild my life and my business.  I'll be working to find a place to put my shop and to set up the machines that I was able to keep.  My jigs are all gone to the trash heap and will need to be rebuilt.  So follow along as I rebuild my life.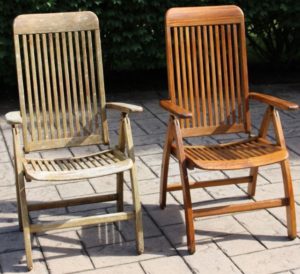 Last year we finished up the repairs on the house in South Carolina. On the back porch, there were a couple of wooden chairs that had been sitting out in the weather for many years. While they were gray and had moss growing on them, I could tell that they were nice quality furniture. I suspected that they were teak but before I got started I wasn't sure what wood they were made from. In any event, I decided that it was time to clean these up and see if there was anything under the grime. Here is the process that I use for refinishing teak furniture.