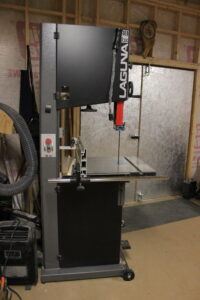 The Laguna 18bx Bandsaw is the big one!  This bandsaw is mostly for resawing and prepping wood right from the log.  The big 3 horsepower motor will power through just about anything that you can throw at it. 
I have purchased the Granberg file N joint Model #G106-B and given it a few tests to see how well it does keeping my chains sharp.  Have a look at this review and see what you think.
You need to keep your chainsaw chain sharp.  There are a number of Electric Chainsaw sharpeners, several manual chainsaw sharpeners and lots of guides that will help you get the correct sharpening angle.