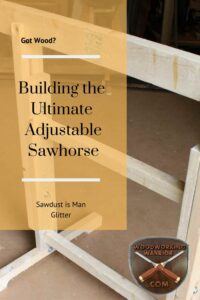 Sawhorses are one of the first things that most people will build when setting up a workspace for woodworking. I've built many different types of sawhorses over the years. The one thing that always gets stuck in my craw is that they get in the way when you aren't using them.I've found that a trestle style sawhorse works well when it needs to be tucked out of the way as well as when it is in use. I needed to add a feature that made the height adjustable as well.
As a long-time Woodworker, I've built a variety of large and small projects.  I've learned to use the tools available to me to get the job done.
I'm currently building out my shop and starting to create again.  I need to work with wood or I'll go crazy.
Follow along on my journey to rebuild my woodworking shop and start a business from the ground up.