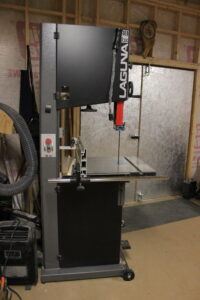 Name: Laguna 18bx Bandsaw
Price: $1999 to $2200
Laguna 18bx, Product Overview
The Laguna 18bx Bandsaw is the big one!  This bandsaw is mostly for resawing and prepping wood right from the log.  The big 3 horsepower motor will power through just about anything that you can throw at it.  The 16-inch height capacity and 18-inch throat will handle large pieces as well.  Do you need this capability?  I've found it to be invaluable in my work.
I love this saw.  There is not a day that goes by without using it for something in my shop.

Laguna 18bx Specifications
Part Number: MBAND18BX2203

Motor: 3HP, 220V, 1 Ph. 12 Amp.

Recommended Breaker: 20 Amp.

Magnetic Starter: √

Min-Max Blade Width: 1⁄8″-1 1⁄4″

Resaw Capacity: 16″

Throat: 18 "

Blade Length: 145″

Disc-Brake with Micro Switch: √

220V Outlet on Back for Light: √

Window for Tension: √

Window for Tracking: √

Magnetic Blade Tension Guide: √

Worm Gear & Pinion Upper Guide: √

10 Point Laguna Ceramic Guides: √

Flat Poly-Groove Drive Belt: √

Premium Anodized Insert with Micro Adjustment: √

Dynamically Balanced Cast Iron Wheels: √

Urethane Single Piece Snap-on Tire: √

Cast Table Size: 20″ x 26″

Table Tilt: -6°, +45°

Quick-Release Tension: √

Hi/Low Anodized Aluminum Fence: 22 1⁄2″ x 5 3⁄4″ x 1⁄2″

Table Height: 38″

Dust Ports: 2 x 4″

Overall Height: 77 3⁄4″

Dimensions, Base: 27″ x 20″

Dimensions Overall: 36″ x 30″

Dimensions Box: 82″ x 34″ x 24″

Weight (Net/Ship): 410/460 Lbs.
Here is a video overview of the 18CX bandsaw.  The 18BX is not designed for cutting metal as is the 18CX but otherwise these two models are very similar. The gearing and speed change functions are not installed on the 18BX.
The Good & the Bad
The Good:
3 Hp motor to chew up the biggest pieces that you can get up onto the bed. I've cut through wet and dry logs and pieces of Live Oak that were so large I needed help to get them up onto the infeed rollers. (Roller Conveyor).  It has only jammed one time and I was cutting 15-inch wet Oak that was from a branch.  The reaction wood tightly pinched the blade and then twisted as it went through.  I don't know of any saw that will cut through that scenario.
Foot Brake – I love this feature.  If you are handling some big wood, you need both hands to steady the material as it goes through the final inch of the material.  Being able to shut off the machine and keep control of large pieces is a lifesaver (or at least a finger saver).
Ceramic Blade Guides–  The ceramic guides that come with the saw do an excellent job at keeping the blade running straight and true and most of all, cool. I do a considerable amount of resawing and stock preparation.  I haven't found that overheating of the blade is a problem.  With my smaller saw, the blade will overheat and lose temper quickly when I try to max out the cut (it's just a small 10" saw with limited capacity)
These, of course, are just my top picks for the best features of this saw.  There isn't a whole lot wrong with this saw.
The Bad:
Dust Collection– I have a dedicated dust collector connected to this saw when I use it (I move it around as needed) but don't have a whole shop dust collector.  Perhaps it is due to the volume of my dust collector but I find that a lot of dust escapes around the cut and the bottom of the saw collects a huge volume of dust inside the lower wheel cover.  Overall, there is a lot of dust that gets collected but I can't just ignore a frequent episode with the shop vac to the inside of the saw.
Power–  There is no way around this one.  This saw requires 220VAC and a 20 amp circuit.  For me, this wasn't/isn't a problem as I planned for a dedicated circuit when I outfitted the shop but if you don't have 220 available where you need it, adding a circuit can be a considerable expense.
The Laguna 14bx Bandsaw with the 1.75 Hp motor will run on 110VAC so if you need some capacity to resaw but don't have the resources to install a 220VAC circuit this saw has most of the capabilities without the need for a dedicated circuit. It does draw a healthy 14 amps though so a 30 amp breaker is recommended.
Who is Laguna 18bx For?
The 18bx bandsaw from Laguna tools is mainly for people that require a resaw bandsaw.  I find that it is also very handy for prepping tall turnings for the lathe. This machine can handle up to a 1 ¼" wide blade.  I've installed a 1 inch Wood Slicer Blade and so far, I've used this sawblade for over a full year without issue.  I can cut thin slices for veneer down to under a 16th inch up to a 16-inch wide log.  
The specifications for the 18bx say that this saw can handle a blade down to 1/8" wide but the blade length is 145 inches so I would suspect that a blade of this size might be hard to tension correctly.  I would not use a blade less than ¼" wide.  It excels for wide blades and straight cuts but can be used for curves as needed.
In my shop, if a workpiece is shorter than 4 inches, I'll use the smaller 10-inch saw.  If it is taller, or if I have a difficult piece that needs the power, I'll change out the blade and use the larger saw.
Last Fall I created a Carved Cherry Serving Bowl for my sister. The Serving bowl was not as large as the Pelican Carving that I did a few years ago so I used this Laguna Bandsaw to rough out the shape of the bowl.  Since the bowl was long and oval-shaped, the wide 1-inch blade was able to make the gentle curves necessary through this 10-inch thick piece of Cherry.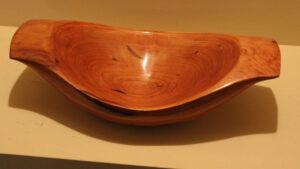 I also used the wide blade on this saw to slice a short piece of Spalted Live Oak.  One of these slices has been integrated into an Epoxy Table that I created, two others became Charcuterie boards for Christmas presents.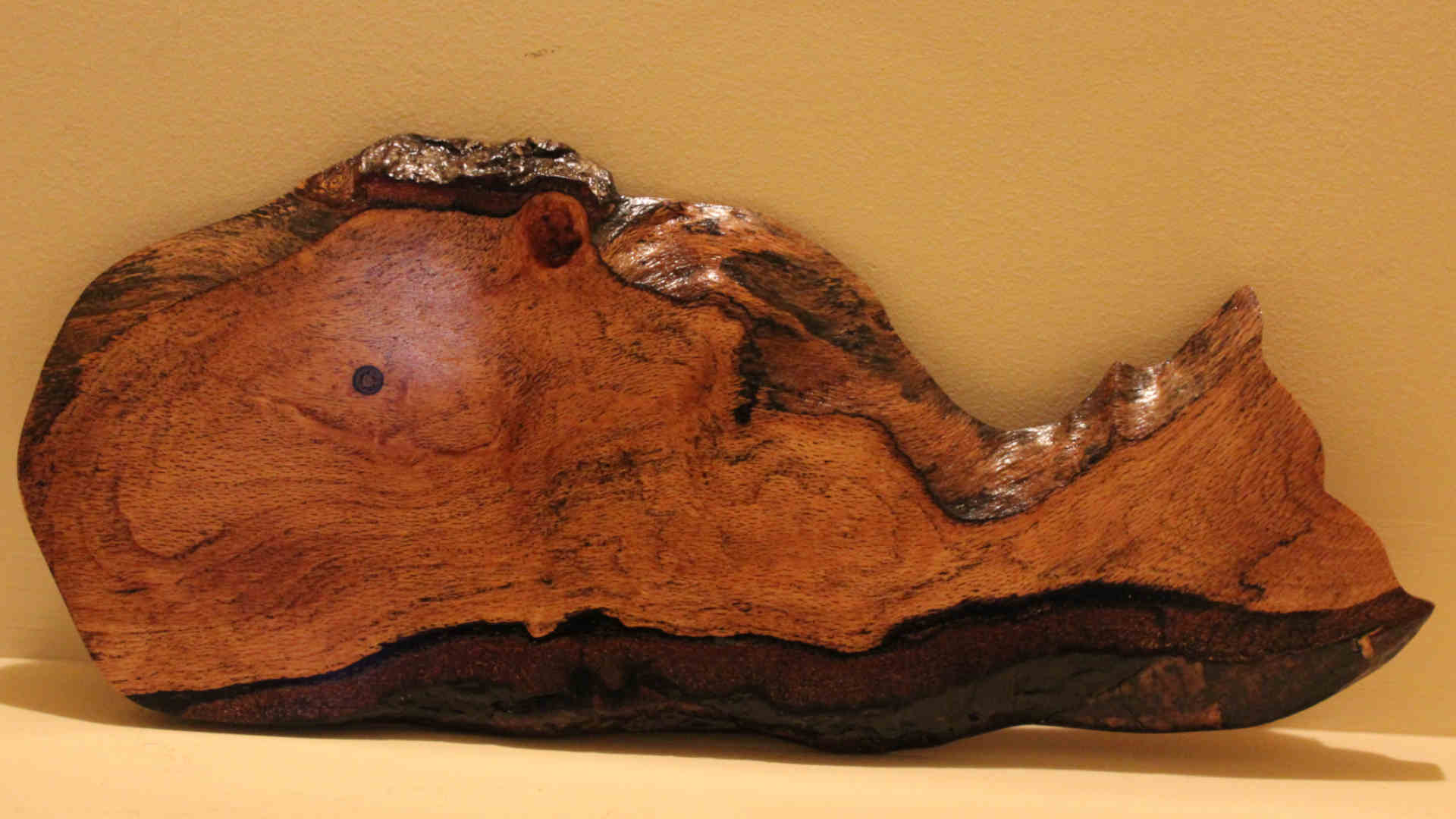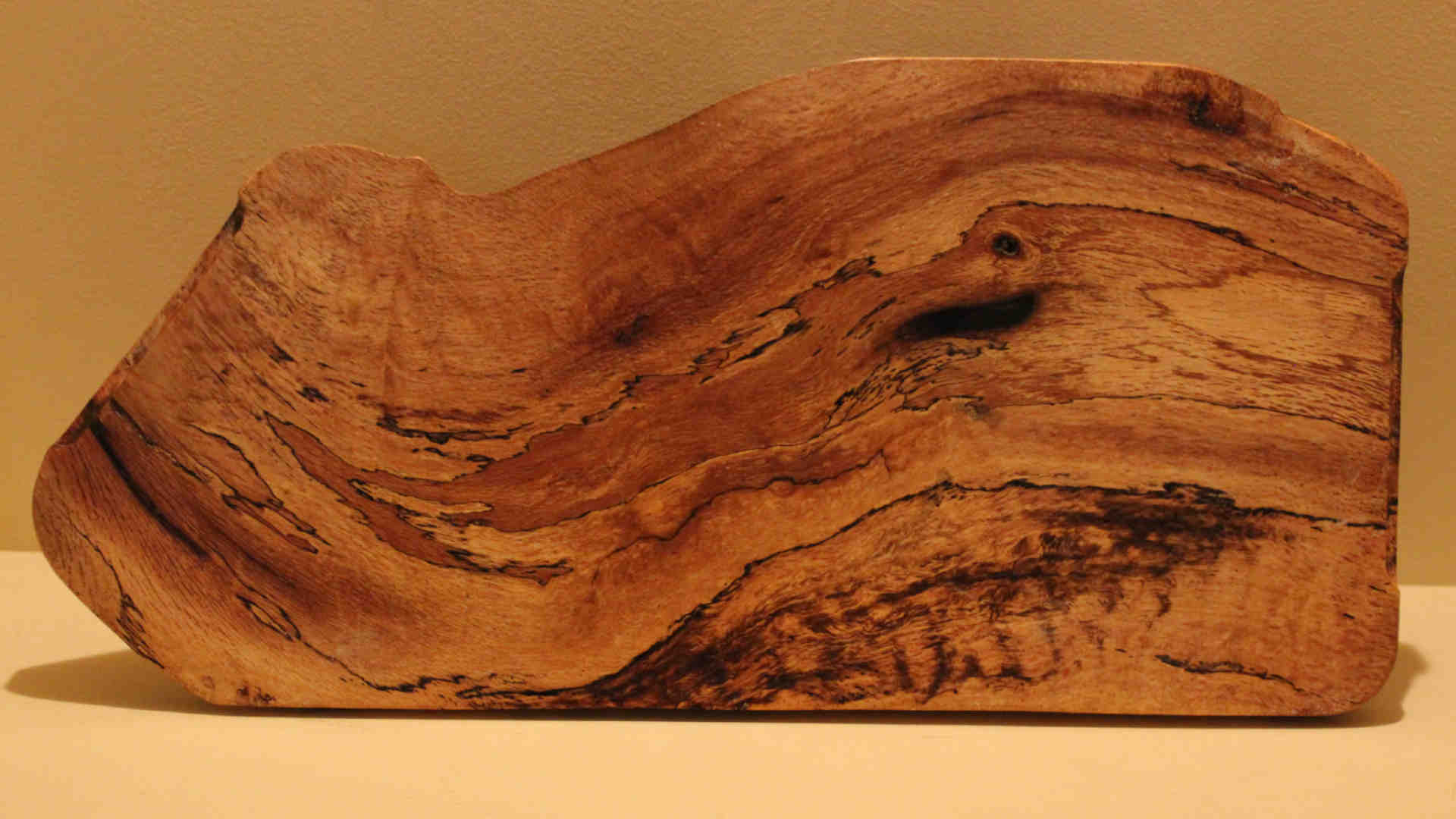 Laguna 18bx Accessories 
There are 3 accessories available for the Laguna 18bx.
Mobility Package
The Mobility Package is essentially a set of wheels with a pedal that raises the saw on the back wheel to allow it to roll around your shop.  This is well worth the cost of the mobility pack.  Sometimes you just need the saw to be in a different orientation or allow for infeeds or outfeeds to be moved near the saw and have additional clearance around the saw.
220 VAC Halogen Light
There is a High Power Spotlight that can be added.  A 220 VAC plug is available at the top of the saw to plug in this accessory.  I opted for a magnetic spotlight on an adjustable arm.  This one is battery powered but provides a nice focused light right where it is needed.
Driftmaster Universal Band Saw Fence
The Driftmaster Micro-Adjust Universal Band Saw Fence provides a fence system that can be adjusted for blade drift.  This will allow you to cut precise veneers by canceling out blade drift with the fence.  Precise thickness can be attained with this adjustment.

Laguna 18bx Support
Laguna Tools prides themselves on their customer support.  They do require that you register your machine with them before you place a service call.
The Laguna Customer Service can be accessed here

Laguna 18bx Price
The price for the Laguna 18bx is right around $2000 in the US.  Additional costs for shipping and accessories can add between $150 and $500 depending on your choices.

My Final Opinion of Laguna 18bx
I absolutely love this saw.  I have set up a long fence that runs in the miter slot and used it to straighten curved boards for door stiles. I have cut a bowl blank for a power carving and centered some 16-inch long stock for large turnings.  I often use it to cut small pieces of stock that are destined for the woodstove.  Often these start as logs and are cut lengthwise into slices then the leftovers go into the Woodburner.
I've found that it excels at cutting large tenons when I am mortising doors. It even provides a great way to resaw the exotics that my partner uses in her scrollsaw work.
The versatility of this saw is amazing!  It is my go to workhorse for prepping material.
Laguna 18bx Bandsaw at a Glance…
Product: Laguna 18bx Bandsaw
Website:https://www.lagunabandsaws.com/
Price: $1999 to $2200
Overall Rank: 95 out of 100
VERDICT: Highly Recommended
If I needed to purchase another bandsaw, I would buy the Laguna 18bx again!