Woodworking Warrior
Tales from the Wood
Every tree has a story, I find an amazing assortment of these inside each tree.
A new perspective follows me into the woods searching for the heart that each tree has to offer.
My lifetime search leads me to discover the hidden gems and the masterpiece that lies within.
Join the search, follow me and learn!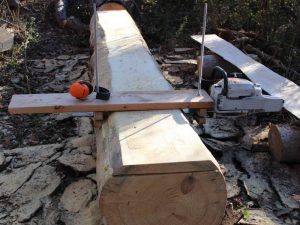 Sometime last fall (Fall of 2017) there was a windstorm that took down a huge yellow pine tree in our woods. I attacked two sections of this tree that contained straight relatively defect-free (or so I thought) with the chainsaw mill.
As a long-time Woodworker, I've built a variety of large and small projects.  I've learned to use the tools available to me to get the job done.
I'm currently building out my shop and starting to create again.  I need to work with wood or I'll go crazy.
Follow along on my journey to rebuild my woodworking shop and start a business from the ground up.